Your business travel and events
Entrust them to Magri Turismo
We offer a wide range of corporate services to help companies grow their business through strategic travel. Whether you need to manage corporate travel, arrange trips to trade fairs, congresses, exhibitions, and other events, or even organize seminars and conferences in Bolivia, Magri Turismo has everything you need to ensure the success of your event.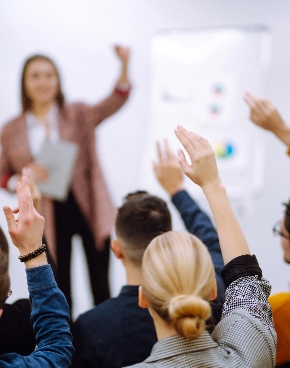 Corporate Travel Management
We understand that organizing business trips can be challenging. That's why we offer a wide range of services to make it easier. From booking flights and hotels to expense management, our team of experts ensures that your journey is as comfortable and productive as possible.
Event Travel Organization for Trade Shows, Conferences, Exhibitions, and Other Events
Planning to attend a trade fair or a major conference? Leave the planning to us. We handle everything from flight and hotel bookings to transportation coordination and registration management.
Seminars and Conference Organization in Bolivia
Looking to host an event in Bolivia? Our specialized event planning team takes care of everything, from selecting the perfect venue to coordinating catering services and managing registrations.
Continuous Information on Global Events
At Magri Turismo, we stay updated with the latest trends and news in the travel and event world. We maintain a current database of global events and provide our clients with useful and relevant information to help them plan their travels and events more effectively.
At Magri Turismo, we are committed to providing our clients with high-quality and personalized service. Our goal is to make your travel experience as efficient and enjoyable as possible so that you can focus on growing your business.
Get in touch with us today to find out how we can assist with your upcoming corporate travels and events!